Understanding the Fashion of the 1950's
Communication of Compliance: The 1950's brought an era that revolved around feminity, obedience and conformity of women.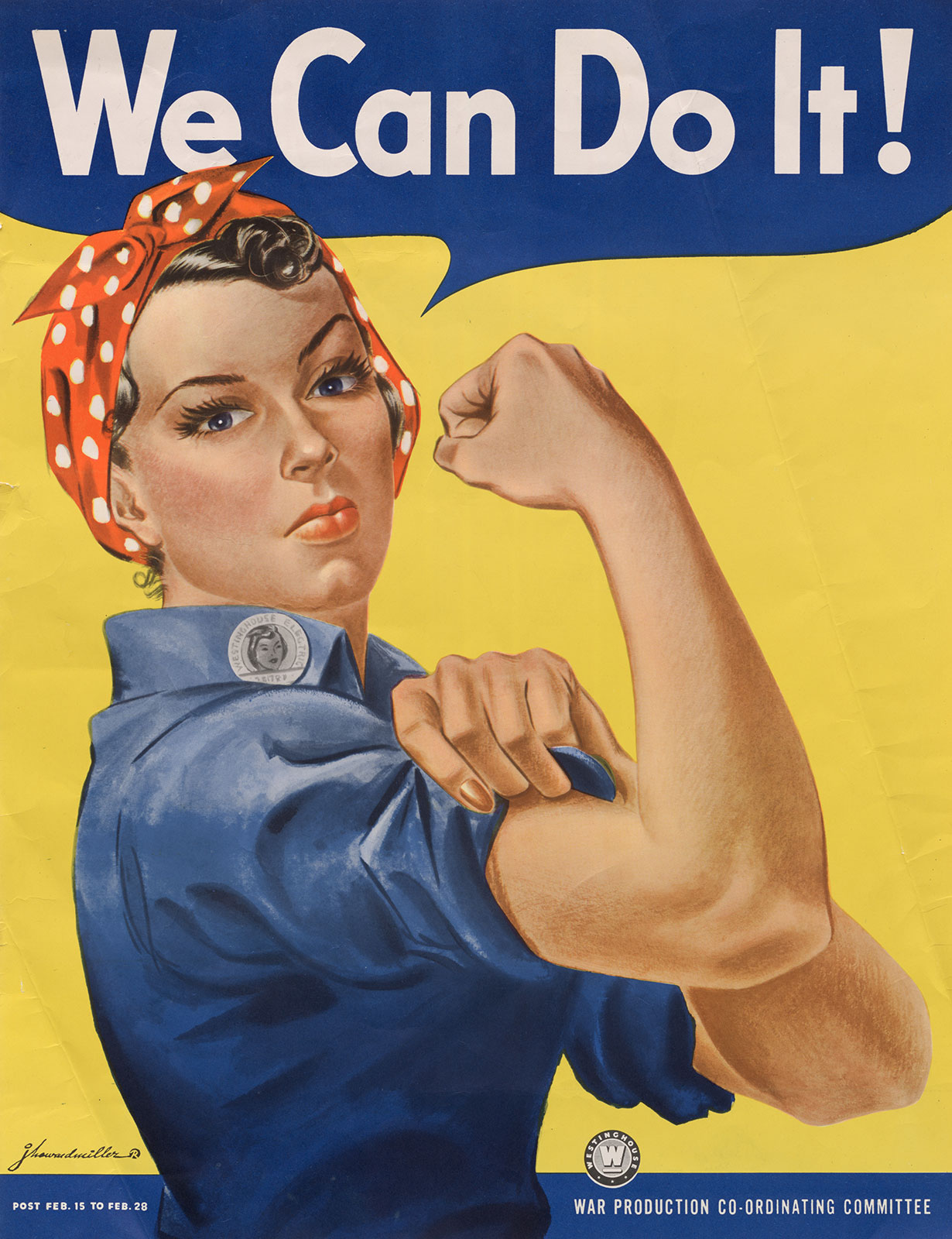 Kira Gemberling explains the reasoning behind feminine obedience in the 1950's:
"The onslaught of World War II (1939-1945) was a unique period in the history of the United States and was one of the biggest changes in lifestyles to average American citizens. Now more than ever, women were relied upon to take care of their homes and children while men were responsible for protecting the country. This emphasis on female domesticity lasted through the 1940s and continued into the 1950s as the picturesque American Dream lifestyle became popular, and the content of women's magazines during this time mirrored this shift in gender roles." (Gemberling, 53).
The correction of this movement left behind the strong feminine persona and promoted a movement of compliance and submission.
​​​​​​​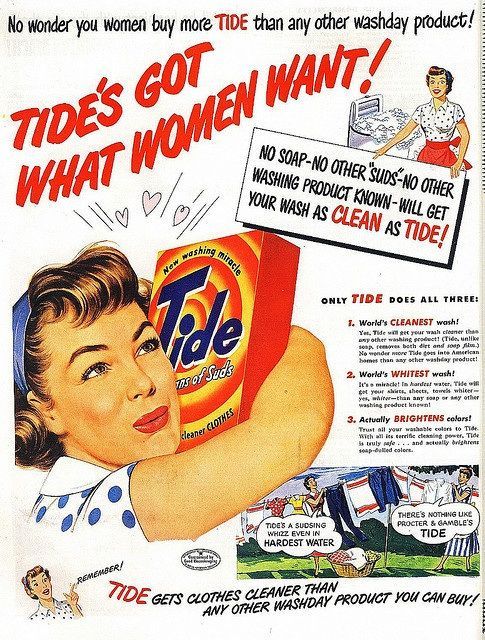 During the 1950s, the objective for young women was to appeal to society by promoting herself as an obedient homemaker that a man would be interested in marrying. The fashion industry was influenced by this significantly as the dutiful housewife persona became a key element of the American Dream. This image was reflected by household use products being communicated and advertised as women's products in magazines.
Source: Tide, Tide's Got What Women Want!, ​​​​​​​1950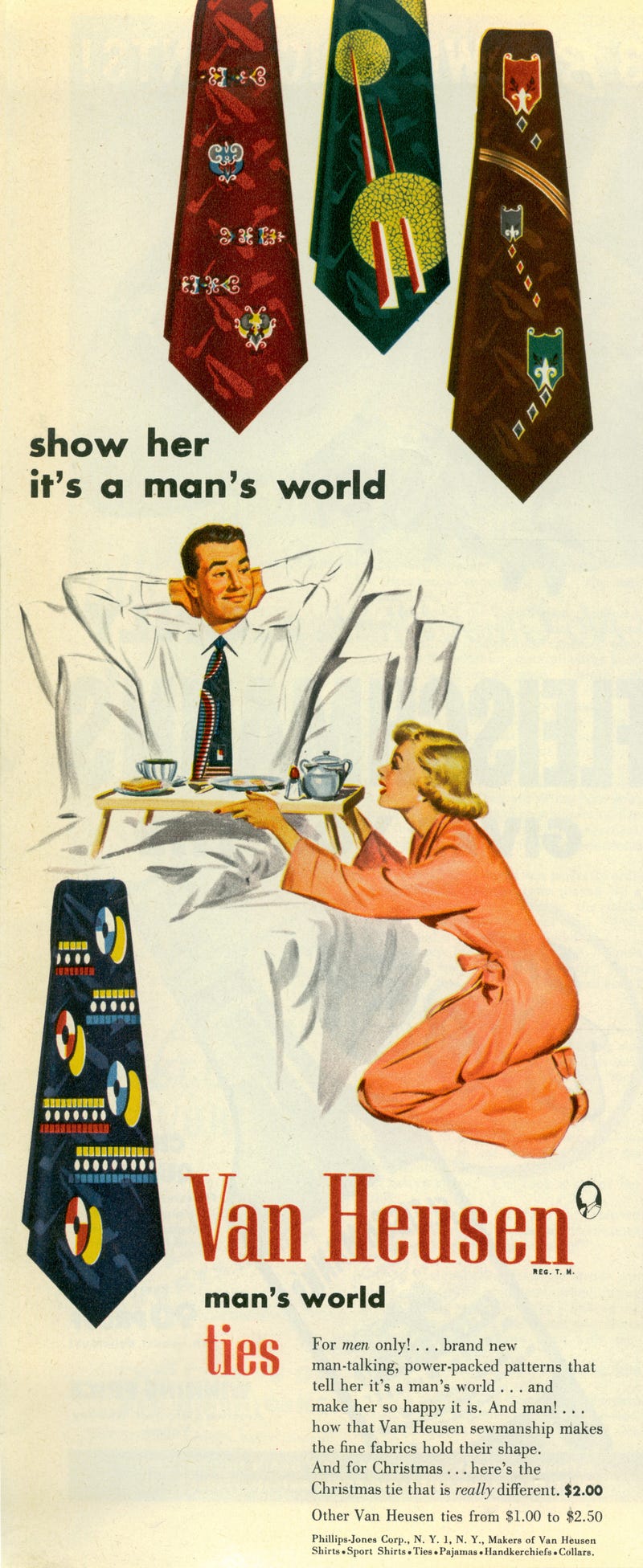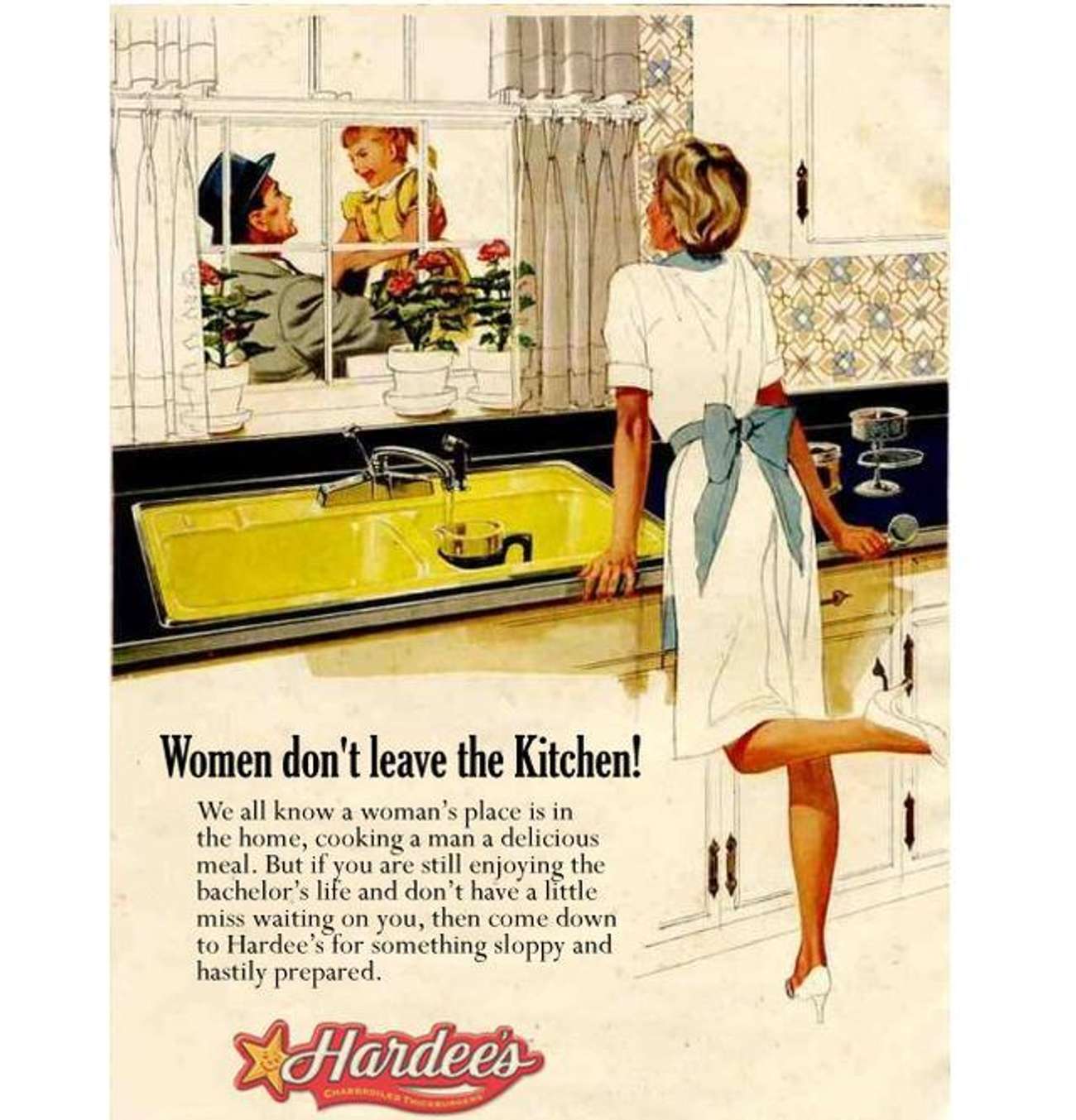 Source: Van Heusen, Show Her its a Man's World, ​​​​​​​1951
Source: Hardee's, Women Don't Leave the Kitchen!, late 1940's
The opressive advertisements being communicated in the media promoted the idea that women existed as servants to men. There was no representation of independent women, and only images of dutiful and devoted wives were communicated. As a result, they were viewed as parts of a unit and not as indiviuals, which left little room for women to express themselves.
Some women lived in discontent, as they felt trapped inside their own lives.
"I lived on a culdesac in suburban New Jersey. Maybe 30 houses, and there wasn't one woman in any houses that worked. And when I started to do this, when I wanted to write, they laughed at me. They laughed at me. What makes you think you can do this?" -Judy Bloom.
"There was something wrong with you if you weren't happy. You weren't normal somehow. You weren't doing what you were supposed to do as a wife and a mother. And if you had 4 beautiful children like I did how could you possible complain? About your life. I felt inside very alienated from the world. I felt that there was something horrifically wrong with me that I would want anything other than what I had." -Rose Garrity
STYLES INFLUENCED BY THE MEDIA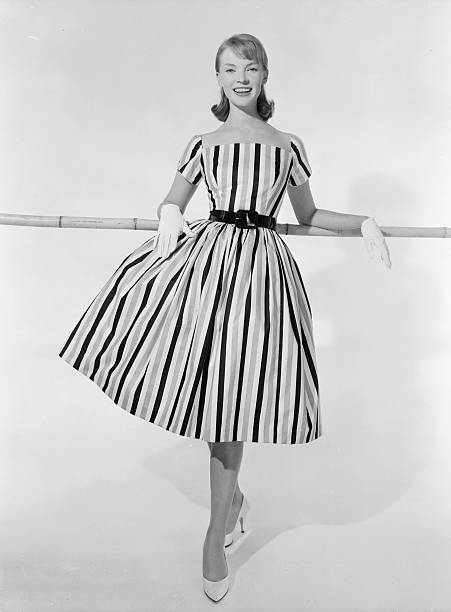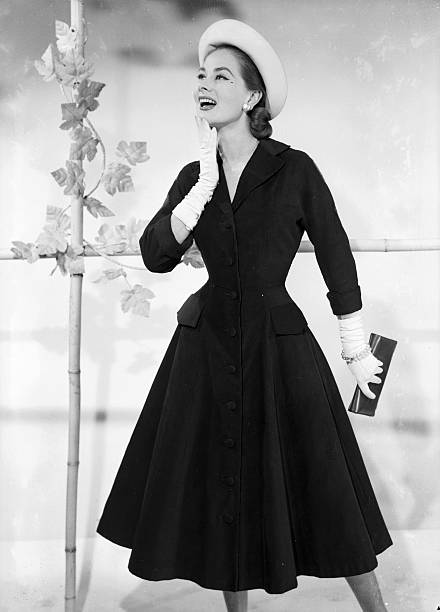 Source: Chaloner Woods, Summer Dress, 1959, Hulton Archive https://www.gettyimages.com/detail/news-photo/carefree-young-miss-models-a-square-necked-summer-dress-news-photo/3139325
Source: Chaloner Woods, Brilkie Ellegance, 1956, Getty Images https://photos.com/featured/brilkie-elegance-chaloner-woods.html
The communication of these misoginystic ideas affected everything from female employment rates to fashion. The conforming styles of this era reflected compliance ideals through a combination of uniformity and hyper femininity; these styles consisted of dramatic hourglass shapes, long skirts, high heels, perfected up-right hair, and muted colors. This left little room for any portrayal of individualism for women, which further proved their role in society revolved around the dependence of men.
Source: McGraw Hill Text-Films, Body and Grooming, 1948, Audio Productions